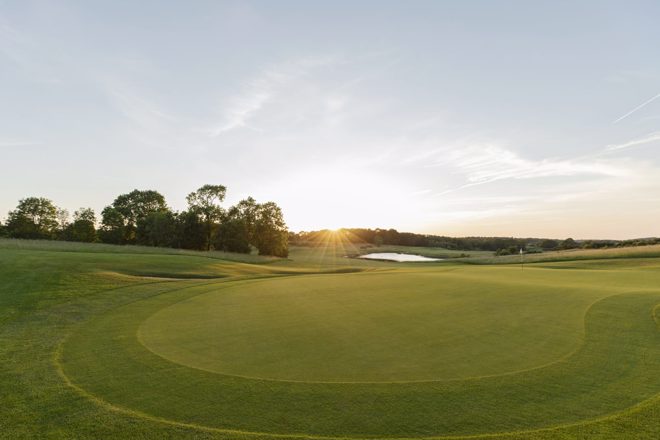 Glyn Abbey Golf Course is situated on the southern slope of the picturesque Gwendraeth valley and was built by British Coal as part of its restoration plan following completion of opencast coal mining operations.
The designer of the Course was no less than Dr Martin Hawtree BA MCD PhD, Fellow of the European Institute of Golf Course Architects. As such the layout is one of the very best in Wales. The surroundings are heavily wooded and there is an abundance of bird and other wildlife. In addition to the existing anncient Trimsaran Wood, a further 35,000 trees were planted during construction.
The Course was opened for play in 1992 and is now coming into maturity. The present management took over in August 1998 and have been responsible for numerous improvements to the Course as well as the construction of the Clubhouse, the Driving Range, Mission Course, Gym and numerous other Facilities.
A new Committee was formed from among the Members to run the Club itself and the Club joined both the Welsh Golfing Union and the Dyfed Golfing Union to provide the benefits of affiliation to the Membership. In Winter 2002 a separate Golf Club was constituted, independent of the management and ownership of the course. It is run entirely by the Members and controls all competition, handicapping and social matters.
Neil Evans, now in Desert Springs in Spain, was the new Management's first Professional. He was followed by Martin Stimson who is now at Ashburnham. Darren Griffiths, son of the famous snooker player Terry who is also the Club's President and hit the first ball at it's official opening, followed for the next 6 years, winning Welsh PGA Professional of the Year in 2008 before moving to Carmarthen as Director of Golf. He is now in Monte Rei in Portugal. Mike Davies joined us when Darren left and himself became Welsh PGA Professional of the Year in 2013 as well as winning a number of other awards. Find out more about Mike here
In 2009 Glyn Abbey was awarded Welsh Golf Club of the Year in recognition of everything it had done and achieved over the preceding 10 years. Mike's awards in 2013 showed that nothing stopped there either! More about Welsh Golf Club of the Year here
Today Glyn Abbey serves as a fantastic community facility with a reputation as the friendliest and most welcoming Club around. It has a great Membership with a strong Junior section, a thriving Seniors section and introduces many, many new entrants to the game every year. It runs a number of annual charity events, raising tens of thousands of pounds and does a lot of work with special needs groups in particular. It warmly welcomes visitors and is an outstanding society venue. Glyn Abbey is a small club which plays a big role. Proud of our heritage and culture we have kept true to our mission to provide golf which is both affordable and of a high standard to everyone
Discover Glyn Abbey for yourself and get the Abbey habit.